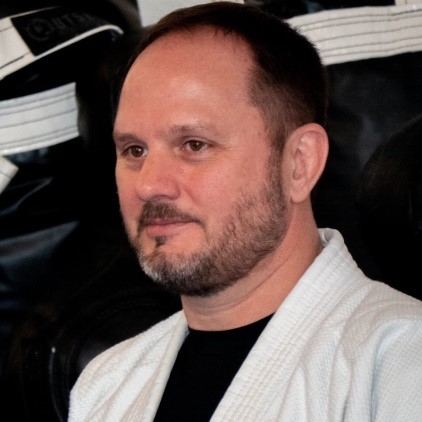 John Coller - 
Senior Instructor
Over 25 years' experience in martial arts, promoted to 4th Degree Black Belt in Jiu-Jitsu by Sean McBroom (7th Degree) in 2019
Jiu-Jitsu training seminars attended: Eddie Bravo, Saulo Ribeiro, Xande Ribeiro, Scott Oates.
Judo training seminars: Jason Morris, Edwin Takemori
Tae know Do rank 2nd Degree Black Belt promoted by Master Richard Kang
Finisher of 21 Marathons (26.2 Miles) in six states and the District of Columbia
Owner & Broker of record for Colonial Realty in Waldorf, Maryland
BS in Political Science, Magna Cum Laude, from UMUC
Honorable Discharge US Navy 1993
---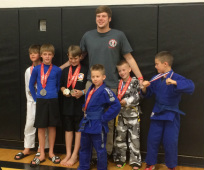 Chris Elliott -
 Instructor
Chris has been teaching and practicing ju jitsu for over 16 years, the last 8 of which he's been an instructor. He earned his black belt in an astonishing 4 years. He is currently a 4th degree black belt. Chris is also a trained boxer. His person boxing coach was a coach for the United States Marine corps for about 20 years. Chris has recently taken up training Muay Thai as well. He has competed in an International Judo competition where he won a Bronze medal and was also state champion in both MD and VA twice. He has multiple NAGA and US grappling medals. Combined, Chris earned 7 gold medals and 6 silver or bronze from his 13 tournaments and has also competed in several MMA bouts. He is a striking and no-gi specialist. Chris says, "Teaching kids is great for me because it makes me better at understanding the techniques I'm teaching, and it does feel great to see a kid do a technique correctly and be happy with it. Teaching adults is the same as kids, they're just really big, strong kids."
---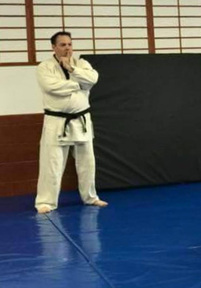 Bill McElhaney -
Senior
Judo Instructor
 Bill is a Nidan (Judo 2nd degree black belt) with over 25 years of Judo training and competition experience. He has been practicing Judo since age 10, beginning in 1975 under Sensei Edwin Takemori, Shichidan (Judo 7th degree black belt). Competing as a junior and senior level competitor, he quickly advanced and was very successful in many DC local, regional, and national level judo competitions including multiple Jr. Olympics and Jr. National competitions. After taking a break for college, career and starting a family, he returned to Judo in 2005 to train with Sensei Marshall Coffman, Godan (Judo 5th degree black belt) at the Budokan Judo Club in Chesapeake Beach, Maryland. Since then he has been very active with regular training and coaching of students, hoping to provide them the same benefits and opportunities that dedicated coaches and the sport of Judo afforded him.
---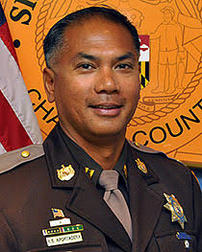 Rey Aportadera - 
Instructor
Ray Aportadera has a BA in Psychology from the University of Hawaii.  He is a retired Law Enforcement officer who served his community for 32 years. His experience includes being a detective in Narcotics, Drug Enforcement Administration Task Force, Robbery, and Homicide. He was a commander in Narcotics, Criminal Investigations and Special Operations. He was a certified police instructor in Firearms, baton (ASP), Taser and Defensive Tactics (DT) with over 20 years of instructor experience.  His police instruction includes certifying other officers as DT instructors specializing in ground fighting based on his expertise gained from the Southern MD Jiu Jitsu Academy. He was the Director of the Southern Maryland Criminal Justice Academy from 2006 to 2010. Being a lifelong practitioner in the Martial Arts starting at age ten, he studied Kyokushin Karate, Tae Kwon Do, Aikido, Tang Soo Do, Jeet  Kune Do, Kung Fu, Aiki Jujitsu, Arnis, Judo and finally Jiu Jitsu.  He has been a Black Belt in our system since 2009 and holds a Black Belt with the World TaeKwonDo Federation, which he obtained overseas.  He was an assistant instructor for the World TaeKwonDo Federation.  Ray not only teaches at the Southern Maryland Jiu Jitsu Academy, he has also trained numerous MMA fighters at our dojo. Ray was responsible for preparing 15 of our blackbelt candidates for their blackbelt promotion. Ray interest has always been in teaching as demonstrated by his 14 years as a youth and high school coach working with our local children. 
---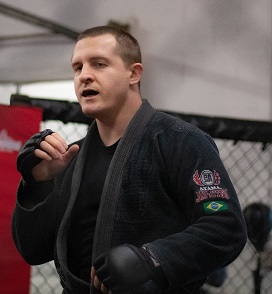 Beau Perrizo - 
Instructor
Beau began studying taekwondo in Southern Maryland during the early 1990s. In 1998 he was introduced to jujitsu by Sean McBroom, from whom he subsequently received a black belt in the early 2000s. Beau also competed in numerous amateur AAU jujitsu and judo tournaments as part of the Jujitsu Academy's competition team, which won several state and national championships. After receiving a black belt, Beau began teaching and coaching at the Academy's initial location in Bryan's Road. In 2006 Beau represented the Academy in its first professional cage match, traveling to Redding, California and defeating his opponent by TKO in the second round. Since then, Beau has primarily taught and trained on Saturdays, while attending the occasional day class or black belt test. He has received subsequent promotions to 5th degree (Godan) under Sean McBroom, although he considers himself to be an "expert beginner" and prefers to focus on basic techniques.
---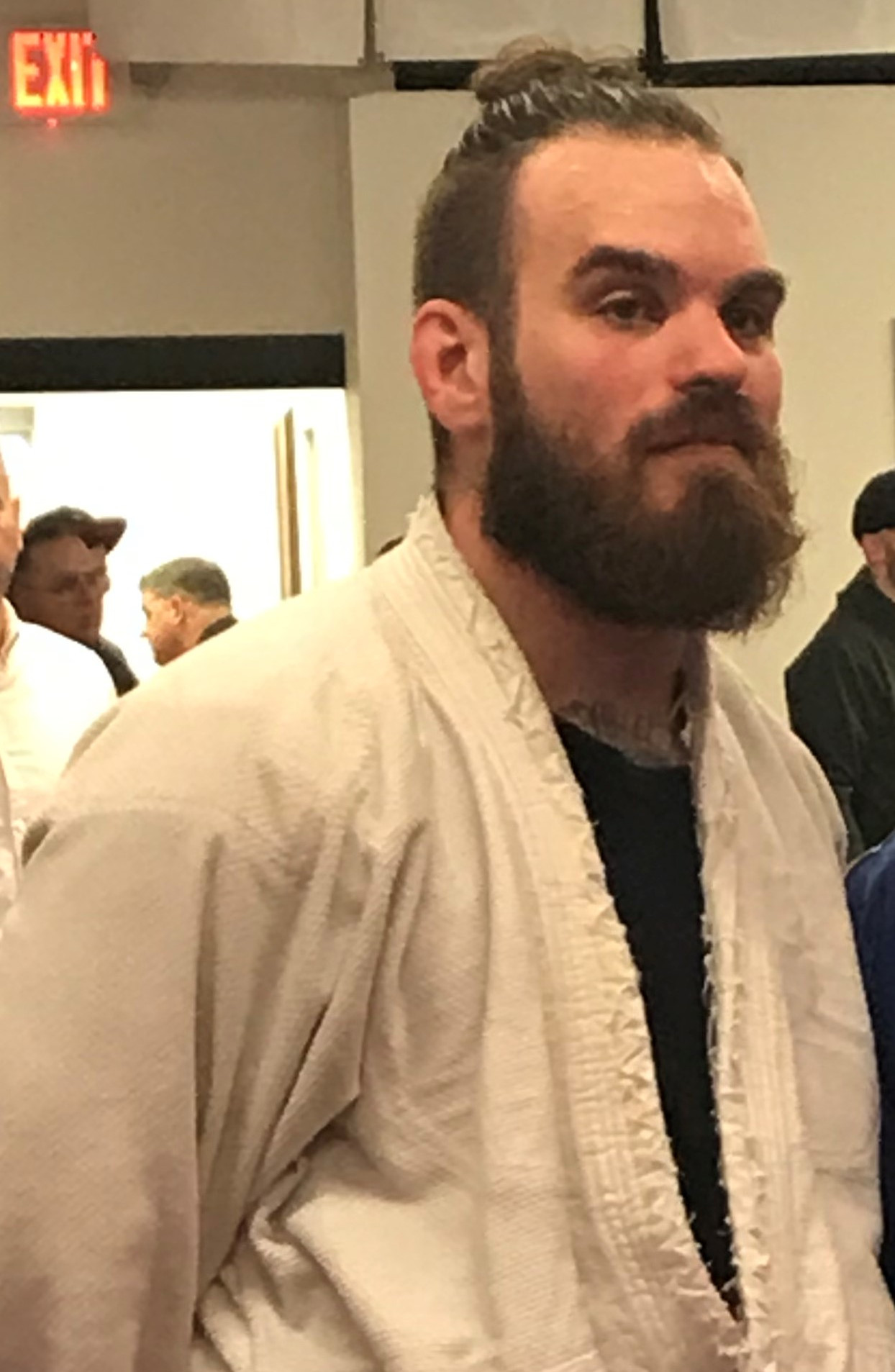 Joshua Raleigh - 
Instructor
Josh has been training Jiu-Jitsu for over ten years. Promoted to 2nd degree black belt in 2021, Josh is the primary instructor for the weekday morning class.